Memories to last a lifetime.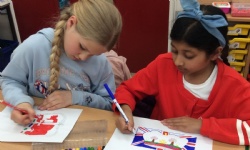 As we embark on the final half-term of this academic year, we are looking back fondly on the memories we made together as a Trust celebrating the Coronation of King Charles III.
With so many wonderful moments to choose from we decided to pull them all together into a video to keep our memories safe.
Across the Trust each school held their own celebration to mark the occasion, with arts and crafts, food and drink, singing and dancing. It was a wonderful display of community, one of the Oxford Diocesan Bucks Schools Trusts core values. Within our family of schools, each individual is encouraged to discover and grow their talents to their fullest potential. We believe by encouraging, inspiring and building each other up we secure the best outcomes for every member of our community.
We look forward to an inspiring last half-term of the academic year with the forthcoming ODBST Eco Summit and summer events running across our schools.