Together we can through Volunteering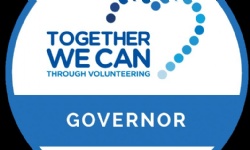 The UN have announced the theme of this years International Volunteer day on the 5th December, "Together we can". International volunteer day is an international observance that was mandated by the UN General Assembly in 1985. The day is an opportunity for us all to promote and appreciate the volunteering in our local communities.
Over the last number of months, COVID-19 has impacted all of our lives in some way and volunteers have been at the forefront of keeping our communities running while we were staying home to save lives. From picking up shopping and medicine for those too vulnerable to leave their homes to donating and helping food banks distributing supplies so no-one goes without.
Governors in particular have had the mammoth task of helping to make all of our children's schools COVID-19 secure so they could return to learning and growing with their peers in these unprecedented times.
Across the Oxford Diocesan Bucks Schools Trust we have over 100 individuals with varying skill sets, that volunteer their time to sit on the Governing bodies of our schools. We would like to take this opportunity to say a big THANK YOU to the governors who have been so instrumental in keeping our schools running and providing our children a safe learning environment.
If you are interested in becoming a governor in one of our schools more information can be found on our governance pages or you can contact us directly - we would love to hear from you.