Thomas Harding Open Air Museum Sucess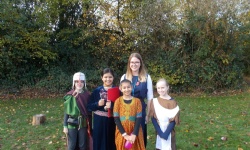 Thomas Harding Junior School in Chesham held an Open Air Museum in the school grounds for Living History day on Friday 9th November. Inspired by a whole school trip to the Chiltern Museum, the pupils dressed up in themed clothes of people from the Stone Age, Egyptians, Saxons and Vikings.
In preparation children studying the Stone Age learnt about Cave Art and looked at what the Stone Age people may have eaten, making flat breads during the Museum day. The Egyptians made Masks, Sarcophaguses and Pyramids for display and played Senet games, made amulets and wrote with hieroglyphics. The Anglo Saxons made shields, helmets, model villages and displayed their treasures as if they had been found by an archaeologist, with a written explanation, mimicking artefacts in museums. They played Anglo Saxon games involving riddles and rock tossing. Our Vikings have been looking at recipes of Viking food, and made Viking pancakes for the school to test. Having studied Viking communication, they wrote a scavenger hunt in runes for other children to solve.
The event was a great success, over 100 parents joining our children outside in the grounds to participate in all the activities and look at the displays, and luckily the weather held for us. The day brought history alive, pupils actively experiencing what life must have been like, working together and teaching each other about their own topic.