Mysterious Crop Circle Appears at Moat Farm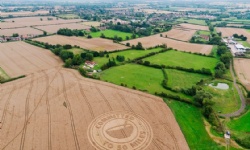 The crop circle was the brain child of Weetabix to illustrate how they are committed to only wheat produced within 50 miles of its factory based in Northamptonshire.
Anthony Pearce, owner of Moat Farm, said: "As a British farmer it's comforting to see some positives emerge from the first half of the year with people looking to support local businesses more and seeking to have a greater understanding of where their food comes from . We have grown wheat to meet Weetabix's high standards for 10 years and are proud to be one of the farms that fall within the 50-mile radius of their factory."