Oxford Diocesan Bucks Schools Trust Celebrates First Year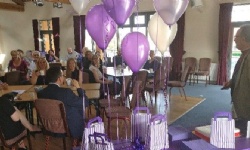 Trustees, headteachers and governors of the Oxford Diocesan Bucks Schools Trust (ODBST) joined together as it celebrated its first birthday last Friday. It was an opportunity to share the good work and support that belonging to the diocesan multi academy trust brings. ODBST headteachers were able to share the way the Trust works with them individually and how they are also able to share effective practice collaboratively across the family of schools.
The Right Revd Alan Wilson, Bishop of Buckingham and chairman of the board welcomed guests to the celebration and helped to start the occasion by cutting the birthday cake. He noted how successful ODBST had been in its first year with schools keen to share their experiences of working with the trust.
CEO, David Cousins commented on the "great responsibility and high expectations placed on the leaders in all our schools, to change lives for the better and meet the high expectations from pupils and parents." He noted that The Oxford Diocesan Bucks Schools Trust (ODBST) was created to meet the needs of schools in Buckinghamshire and Milton Keynes.
Fiona Craig: (Diocesan Director of Education) was very positive about the option that ODBST offered to schools in Buckinghamshire and Milton Keynes. "ODBST was launched on the back of demands by headteachers for a choice of multi academy trust in this area of the diocese. To have reached its first birthday and have new schools interested in joining the Trust is great testimony to the support the Trust can offer in a fast-changing and challenging landscape for schools"