Teachers and Pupils at Chesham Bois spreading joy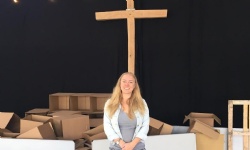 Members of staff at Chesham Bois CE School have been supporting one of the Schools local charities, The Chiltern Food Bank at their new location - Restore Hope.
Miss Abbie Mitterhuber, who has been volunteering along with other staff members at the local food bank, has been busy helping to pack and deliver boxes to those most in need in the Schools local community.
"The food bank is one of Chesham Bois CE Schools charities and so we are really humbled to be able to help them in this way." Sara Tilbey confirmed.
The children are busy writing letters to people in the local community who might be lonely during this difficult time. They will also be sending copies to members of the elderly lunch club to let them know that the school is still thinking of them and that they are very much looking forward to seeing them at our next lunch in the scout hut next to our school.
It is wonderful to see schools reaching out to the lonely and vulnerable at this time.