Great Horwood School praised as "Fantastic"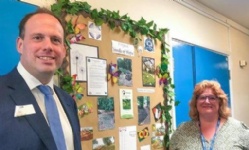 A little over a week ago, Great Horwood Church of England school were treated to a visit from Buckingham MP Greg Smith. As reported in the Buckingham advertiser, Greg Smith was visiting the school to present certificates for the schools' participation in the Skip2Bfit workshop.
Skip2Bfit use specially designed counting skipping ropes to incorporate numeracy whilst promoting fitness and healthy living.
A link to the full story, as featured in the Buckingham Advertiser, can be found below.
Congratulations to headteacher Paula Shaw, Chair of Governors Sarah Biswell, and all the children for making such a wonderful impression and demonstrating the school and Trusts values so well.