Target Tracker Champions Network Meeting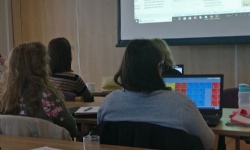 ODBST and ODST held their target tracker Champion training event for teachers and senior leaders on the 5th February. Target tracker is a School Data Software that is used to analyse student data and identifying the gaps, helping to map out next steps and raise outcomes.
To make sure that all schools are confident using the software the Trust and ODST provide training for a Target Tracker Champion for each school. The termly events allow the champions across both MATs to meet and take part in training run by Target Tracker trainers.
This term's meeting looked at the new Ofsted framework, which is more heavily focused on curriculum and how Target Tracker could be used in conjunction with this to monitor their subject and observations.