Happy Thank a Teacher Day!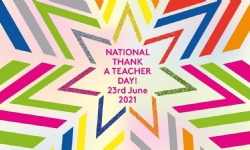 Today is thank a teacher day. Oxford Diocesan Bucks Schools Trust would like to say a huge thank you to all the teachers and teaching assistants across all of our schools for the amazing work that they do every single day!
This last year has been challenging for all of us, and the staff in our schools have faced it head on, supporting our pupils and their families through home school and in the classroom.
We would like to say a MASSIVE thank you to them all, and let them know how appreciated their hard work is.