Remote Learning Quality Standard Success for ODBST schools!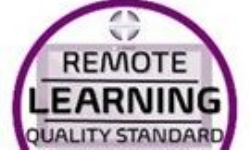 Throughout lock down our schools had to make a quick and seamless switch from face to face learning to online learning. At ODBST our school improvement team wanted to not only ensure that the pupils under the Trusts care were still getting an exemplary education, but to also celebrate the hard work the teaching staff had put in to keeping the standard of their lessons so high.
Six of our schools applied for the Remote Learning Quality Standard assessment, all of which earning a Gold.
Congratulations to all the schools that took part.
| | |
| --- | --- |
| School | Evaluation |
| Thomas Harding Junior | 'From a background of tackling the unknown to overcoming barriers, in a very short period of time, the leadership and staff at the school have embraced change and ensured that learning for pupils has continued in the most advantageous way possible.' |
| Chesham Bois CE | 'There can't be many jobs that have morphed into something completely different during this pandemic. Having to grapple with new technology, applications and systems with little training in such a short space of time, and to still deliver excellent learning programmes for your children is inspiring at the very least.' |
| Curzon CE | 'Parents were overflowing in their praise for the staff and how they organized and managed the whole process for them and their children. They were particularly impressed with the way the feedback sheets worked and the 'amazing detail provided'. It was clear from their comments that staff had learned a lot from the first lock down and made advances in their approaches and practice.' |
| St Mary's CE (Aylesbury) | 'Leaders were proactive in preparing their Remote Education Policy and Plan. They ensured that lessons learned from previous experiences were taken on board. Consequently, they were able to respond extremely rapidly when the Government announced the next lock down. ' |
| Great Horwood CE | 'Leaders and governors have a developed a highly effective Remote Learning offer for the pupils and families in the school which has the complete confidence of its users and providers. This results in an ambitious offer with challenge and variety in the learning approach for all pupils across the full breadth of the curriculum.' |
| St John's CE (Lacey Green) | 'St John's have fully embedded for remote learning across not only the whole school but well into the local community as well. There is a palpable joy and excitement about learning together in these new ways. From a background of tackling the unknown to overcoming barriers the leadership and staff at the school have embraced change and ensured that learning for pupils has continued in the most advantageous way possible.' |