Looking to the Rainbow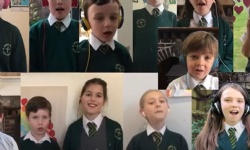 Looking to the Rainbow is a new song, penned by Nick and Becky Drake with the intention of schools preforming the piece during the Covid-19 breakout and subsequent lock down, either at home in isolation or at school with the children of key workers.
Students at St John's Church of England Primary School have recorded a version remotely and put together a wonderful video to lift everyone's spirits. Thank you to all of the satff and students involved with this wonderful project.